Shanghai (EXPO-2010) MHEWS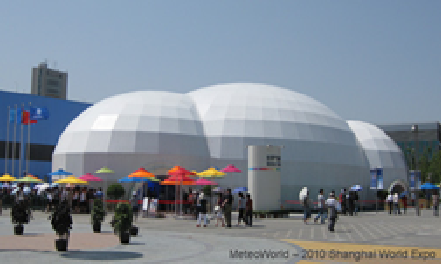 Shanghai is a megacity situationed on the shores of the East China Sea and the mouth of the Yantgtze River. It features a dense population of 18 million people and is experiencing rapid economic development, aiming to be the economic, financial, trade and transportaion center of China.
Shanhai faces multiple hazards. It is frequently affected by natural hazards such as typhoons, storm surges, heavy fog, heat-waves, and also by atmopheric pollution. Shanghai Expo – Successfully launched new air quality and related services as a component of the Expo Multi Hazard Early Warning System (MHEWS) Demonstration Project. The project under the leadership of Xu Tang, Director General, Shanghai Regional Meteorological Center, CMA, is designed to explore the full potentials of urban life in the 21st century. Key elements of the project are todisclose the physical and chemical mechanisms during the formation, transportation and transformation processes of the main air pollutants in the Shanghai area, to establish the air pollution prediction system for the Shanghai area, and to improve the assessment techniques of environmental quality. Based on various measurements (meteorological and environmental observations, diseases diagnostics) new and comprehensive forecast products to support public health services were developed and demonstrated during Expo. The services include those for air quality, pollen, food poisoning and heat stroke, among others. Through these services effective actions to protect the health of individuals, especially those in sensitive groups, will be designed. The project continues with further development of the public health services focus.