Urban Health, Air Quality and Climate: Mexico City Case Study
The Mexico City government has been working for many years on improving air quality, and most of the progress has been made through comprehensive air quality management programs (PROAIRE) based on scientific, technical, social and political considerations. The Mexico City government has also taken actions to mitigate greenhouse gas emissions, focusing on "win-win" strategies that promote social development as well as environmental benefits.
As a result of the regulatory actions combined with technology change, concentrations of several criteria pollutants have been decreasing over the past decade despite the continuing increase in population and economic activity. The historic reduction on air pollution concentrations over the past few years has improved the health and quality of life of the population. However, Mexico City's levels for particulate matter and ozone still exceed guidelines recommended by the World Health Organization.
The city has an extensive capacity for data collection; Mexico City monitoring network is one of the most advanced in Latin America. Coupled with this extensive air quality monitoring capacity, the Mexico City emissions inventory is also very well developed and is now compliant with the BASIC+ certification issued by C40. Recent field measurement campaigns, MCMA-2003 and 2006 MILAGRO, have provided very comprehensive data sets for updating and improving the emissions inventory, the chemistry, dispersion and transport processes of the pollutants emitted to the MCMA atmosphere and their regional transport, transformation and impacts.
The Mexico City government has a strong political commitment to implement new policies and keep improving the air quality of the region for the protection of the population health. Reducing pollution levels will result in benefits not only to the welfare of its inhabitants but also in the economic and social areas.
The collaboration between WMO-GURME and Mexico City government is aiming to accomplish the following objectives:
By forecasting of air quality conditions on short timescales, support the city government with information to take effective actions through mitigation to exposure to high concentrations of pollutants and lay the groundwork to develop policies to reduce emissions for air quality improvement and other co-benefits (e.g., climate, food security, etc.)

Identify synergies with existing activities and create synergies with other initiatives (health, air quality and environment, development) of Mexico City's government

Capacity building "learning by doing"

Raising awareness of the health benefits of emissions reductions

Expand model coverage, replicating in other cities and megacities, especially in developing countries.
Mexico City Air Quality Management Tools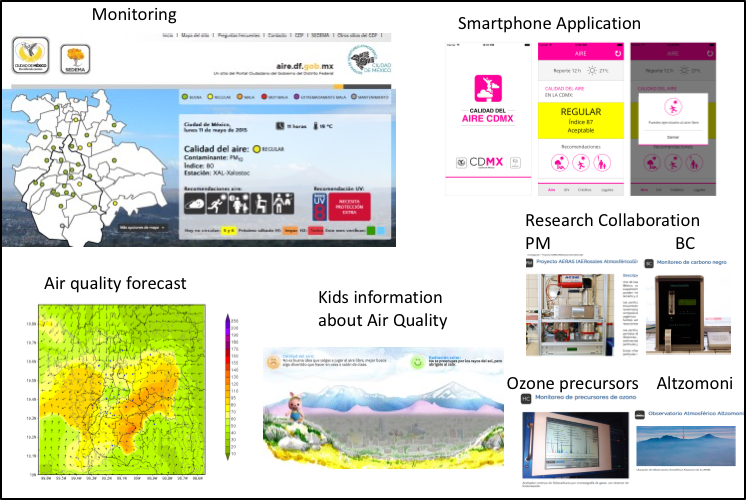 http://www.sedema.cdmx.gob.mx/
Air Quality Forecasting - Video Download